10sep(sep 10)11:00 am11(sep 11)7:00 pmVAPESHOW Warsaw 2016Vape exhibition and conferenceReduta Banku PolskiegoType:Tradefair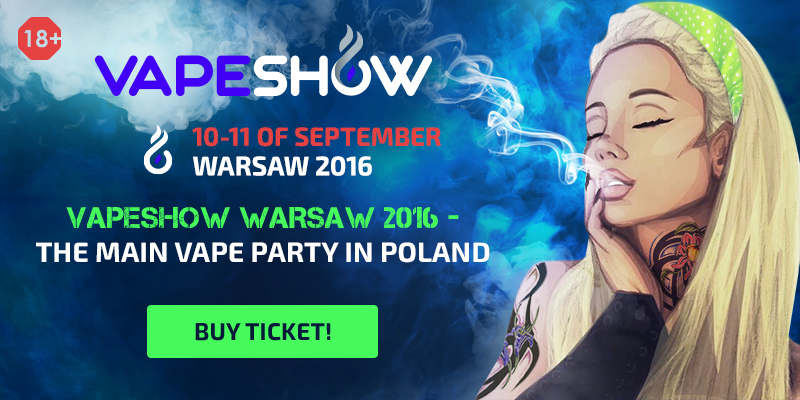 Event Details

VAPESHOW Warsaw 2016 is the international vape exhibition and conference in Poland. Warsaw will be turned into vape party epicenter bringing together vapor fans and industry top companies for two days.

VAPESHOW WARSAW will include:  

Top manufacturers' vape devices.
E-liquids for every taste!
Tasting of new products and the best market lines.
A lot of gifts from exhibition participants.
Cloud contest: cloud chasing competition.
DJ sets. Dance show.
Vape bloggers.
     Meanwhile, you should:
Book a ticket while the party is becoming hotter and hotter.
Train your lungs for the cloud contest.
Prepare to taste top manufacturers' new products.
Wait for a hot dance show.
Prepare questions for top bloggers and photos for exhibition participants' contests.
Gather best friends and prepare to get a whole prize pool of the exhibition!
Watch, taste and win gifts at VAPESHOW Warsaw 2016!

CONFERENCE: everything about VAPE business 
Do you have a vape shop or are you just going to establish it? We know what you need! 
Reviews and trends of vape market, legislation and protection of business rights, cases and success recipes, Q&A sessions with top companies' experts.
We will bring together the best speakers:
David Attwood, Business Analysis and Consulting Director at ECigIntelligence.
Topic: View of the future for the industry under a regulated environment
Gregory Conley, President of American Vaping Association. Topic: The truth about vaping
Norm Bour, Founder/President of VapeMentors. Topic: How to start or grow your vape business
Jacek Rajewski, Doctor of Technical Science, Business Development Manager at Spark-Lab. Topic: E-liquids and vape analysis methodology according to Commission Implementing Decision (EU)    2015/2183
Estera Józefowicz, PR Manager of eSmoking World, PR Director of eSmoking Association. Topic: The real impact of e-cigarettes for consumption of traditional tobacco products
Elena Rogulis, Research Analyst at Euromonitor International. Topic: Current issues of the vape industry development
Łukasz Pluta, Sales Director at VapeZone.pl. Topic: Practical experience of Polish e-liquids manufacturers' business development
If you are an ambitious entrepreneur being ready to develop your own vape business, we are waiting for you at VAPESHOW Warsaw 2016 conference!  
Organizer
Smile Expo is the exhibition company, which projects include VAPEXPO MOSCOW, VAPEXPO KIEV, VAPESHOW Prague, VAPEXPO Amsterdam.   

We are waiting for you at Vapexpo Warsaw 2016 on September 10-11!
vapexpo.pl
more
Time

10 (Saturday) 11:00 am - 11 (Sunday) 7:00 pm
Location

Reduta Banku Polskiego

Warsaw, Reduta Banku Polskiego, 10 Bielańska Str.
Organizer

Smile Expoclient@smile-expo.com Source: https://vapexpo.ru/en/exhibition © VapeExpo Moscow
Reduta Banku PolskiegoWarsaw, Reduta Banku Polskiego, 10 Bielańska Str.